About Bedford Stuyvesant
Bedford-Stuyvesant, more commonly known as Bed-Stuy, is located in the north central portion of Brooklyn. The neighborhood is served by Brooklyn Community Board 3, Community Board 8 and Community Board 16 and falls under the domain of two New York City Police Department precincts: the 79th and the 81st.
Bed-Stuy is bordered by Flushing Avenue to the north, Atlantic Avenue to the south, Broadway to the east, and Classon Avenue to the west. It has been the cultural epicenter for Brooklyn's African-American population since 1936, following the construction of what became the A and C train lines. African-Americans fled the congestion that was in Harlem for greater housing stock available in Bed-Stuy.
The name Bedford-Stuyvesant combines the names of two Brooklyn neighborhoods from the 1800s: Bedford and Stuyvesant Heights. Stuyvesant Heights is known for its beautiful brownstones that stretch through the neighborhood attracting locals and foreigners alike to bath in the beauty that is Stuyvesant Heights Brownstones. The name Stuyvesant actually comes from the last governor for the colony of New Netherland, Peter Stuyvesant. After the arrival of the British, Bedford was the first major settlement in pre-revolutionary Kings County east of what was then called the Village of Brooklyn. Stuyvesant Heights, however, was farmland and only became a community after the American Revolutionary War.
In 1964, riots broke out after NYPD Lieutenant Thomas Gilligan shot and killed an African-American teenager, James Powell. These riots moved from East Harlem to Bed-Stuy and resulted in the destruction and looting of many neighborhood businesses, many of which were Jewish-owned, since at this tie it was a prominently jewish neighborhood. One interesting thing to note is that during this time the NYPD placed almost every Officer of color to patrol in Harlem's 28th and 32nd precincts or Bed-Stuy's 79th.
From 1967 to 1968, these riots continued as part of political and racial tensions in the United States. This new era of political and racial conflict lead to high unemployment rates among blacks and continued segregation in housing.
But greater political representation for the city's black population came as a result of a lawsuit brought under the Voting Rights Act two years prior. In 1965, a journalist by the name of Andrew Copper, brought a law suit (Cooper V. Power) under the voting act Against Racial Class system. That suit claimed that Bed-Stuy, which was divided among five congressional districts, lacked political power on its own. As a result, a new district was created, leading to the election of Shirley Chisholm, America's first black woman and first person of West Indian heritage, to Congress. the first Black woman and West Indian American ever to elected to the US Congress.
Notable People
Jay Z (born 1969), rapper, lived in the Marcy Housing Projects for most of his childhood
Aaliyah (1979–2001), Grammy-nominated singer
Big Daddy Kane (born 1968), rapper
Memphis Bleek (born 1978), rapper
Mark Breland (born 1963), boxer
Foxy Brown (born 1978), rapper
Shirley Chisholm (1924–2005), congresswoman
Joey Badass (born 1995), rapper
Talib Kweli (born 1975), emcee
Lil' Kim (born 1974), rapper
Maino (born 1973), rapper
Tracy Morgan (born 1968), comedian and actor
Mos Def (real name Yasiin Bey) (born 1973), rapper
Ol' Dirty Bastard (1968–2004), rapper
Papoose (born 1978), rapper
Floyd Patterson (1935–2006), boxer
Jackie Robinson (1919–72), professional baseball player with the Brooklyn Dodgers
Chris Rock (born 1965), actor/comedian. Also made a TV series about his early life, with much of it based in Bed-Stuy
Desiigner, rapper
Nelson Erazo (born 1977), professional wrestler better known by his ring name Homicide
Fabolous (born 1977), rapper
Bobby Fischer (1943–2008), World Chess Champion
Kadeem Hardison (born 1965), actor, portrays Dwayne Wayne on A Different World
Connie Hawkins (born 1942), Basketball Hall of Fame player
Tony Rock (born 1974), comedian and younger brother of Chris Rock
Brandon Stanton (born 1984), Humans of New York author and photographer
Lenny Wilkens (born 1937), Basketball Hall of Fame player and coach
Juan Williams (born 1954), journalist and political analyst
Ted Williams (born 1957), voiceover artist
Vanessa A. Williams (born 1963), actress
About Herbert Von King Park
Herbert Von King Park was first built as Tompkins Park in the Bedford-Stuyvesant neighborhood of Brooklyn. It was designed by Cavevrt Vauz and Frederick Law Olmsted, the same man who designed Prospect Park and the ground of the 1893 Chicago World's Fair. The park was one of the first in Brooklyn when it was built. Originally named after Daniel D. Tomkins, an active abolitionist who served as governor of New York and Vice President of the United States, the park was renamed to Herbert Von King Park in 1985 to honor an exceptional member of the community. Today the park serves as a meeting place and event space for the local residents of Bedford-Stuyvesant.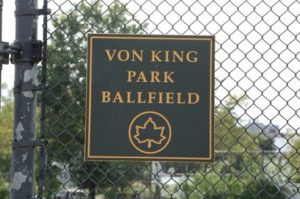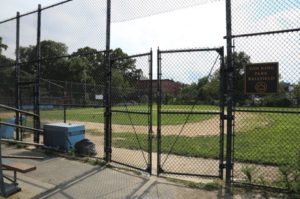 Von King was often referred to as the "Mayor of Bedford-Stuyvesant." He worked tirelessly to serve his community for over fifty years. In 1933 he founded Boy Scout Troop 219 to provide a constructive outlet for the local boys. This earned him the Vigil award, one of the highest honors one can get form the organization. While working as a contractor, Von King served on the local school board, the Police Civilian Committee, and the Magnolia Earth Tree Center (a conservationist organization). For his efforts he received awards and recognition form the State Senate, the City Council, and the 81st Precinct.