About Coney Island
Served by Brooklyn Community Board 13 and the 60th and 61st Precincts of the New York City Police Department, Coney Island isn't just a residential neighborhood. It's most commonly known for its beach and theme park rides, as it is also a destination for relaxation and entertainment. MCU Park Stadium is located in Coney Island and is the home of the Brooklyn Cyclones minor league baseball team. Coney Island has a population of over 45,000 with many being low and middle income residents.
Before the European settlers arrived in what we call Coney Island today, the Lenape Indians referred to it as "land without shadows", due to the fact the island faces the sun. When the Dutch arrived they re-named the sandy ocean-side section, Konijnen Eiland or "Rabbit Island". This was because of the huge population of furry mammals that occupied the land.
The conception of Coney Island as a resort destination is the result of the construction of the Coney Island Hotel in 1829, and it consequently became a large tourist attraction in the 1830s and 1840s.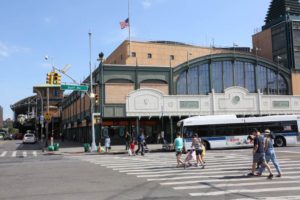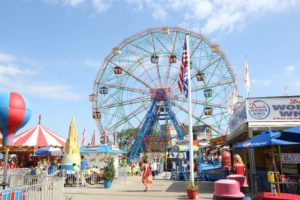 Between the 1880's and World War II, Coney Island had become the largest amusement park destination in the United States, attracting millions of visitors each year—as it still does today. At the peak of its popularity, Coney Island contained three competing amusement parks; Luna Park, Dreamland, and Steeplechase Park.
The first Coney Island amusement park, Sea-Lion Park, opened in 1903, and was joined by Steeplechase Park that very same year. Steeplechase Park was most famously known for its signature Steeplechase Horse ride. The original Luna Park also opened in 1903 and was soon nicknamed "Electric Eden", due to 250,000 lights that illuminating the park at night. In 1964, the last of the big three parks, Steeplechase Park, closed its doors for good, and the rides were auctioned off and the property was sold to Fred Trump, the father of Donald Trump.
Three rides in Coney Island are protected as New York City landmarks and listed in the National Register of Historic Places. These landmarks include The Wonder Wheel, conceived in 1918, and now part of Deno's Wonder Wheel Amusement Park; the Coney Island Cyclone roller coaster, conceived in 1927, and now owned by the New York City and controlled by Luna Park; and lastly, the towering Parachute Jump, conceived in 1938, but no longer in use as of 1968—though still standing strong on the boardwalk since its debut at the 1939 New York World's Fair.
Coney Island is a huge tourist attraction but is home to many people who get to view the aforementioned sites and attractions on a daily basis. Coney Island has even been featured and referenced in many television shows, movies, and cartoons.
Notable People
George Gershwin – Composer
Arlo Guthrie – Singer
Nathan Handwerker – Hot dog entrepreneur
Joseph Heller – Novelist
Stephon Marbury – NBA player
Rhea Perlman – Actress
Sebastian Telfair – NBA player
Notable People who worked at the amusement park:
Jimmy Durante – Singer
Cary Grant – Actor
Harry Houdini – Magician